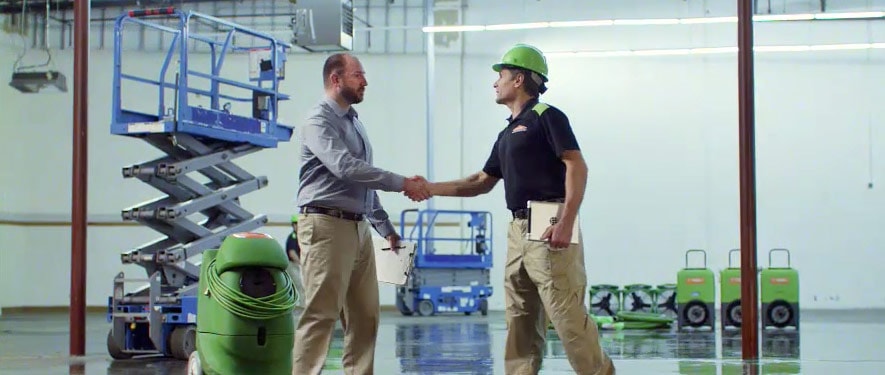 Commercial Services
As we all move forward in the battle against COVID-19, inspiring safety and confidence in our communities remains the number one concern. That's why at SERVPRO®, we remain dedicated to bringing a higher standard of clean to businesses across the country through Certified: SERVPRO Cleaned.
One thing that businesses expect to experience regularly during the pandemic is an increased focus on disinfection and sanitation. Here are the services we offer:
Deep cleaning is standard practice in our company. Regular deep cleaning contributes to proper sanitation and minimizes the buildup of grime and dirt.
2. Upholstery Cleaning
We offer upholstery cleaning services to get rid of dust, dander, germs, and allergens. It is especially important if you run a high-traffic business because it means your upholstered surfaces have heavy daily use. Since it's difficult to know who's infected, thorough upholstery cleaning will help reduce the spread of the virus.
3. Floor Mat Cleaning
Floor mat cleaning helps to keep your commercial property clean and safe.
4. Carpet Cleaning
Carpets are a hotbed for allergens and dander. Carpets tend to trap a lot of pollutants.
5. Janitorial Monthly Services
For your commercial property to stay spotless and reduce exposure to the virus, you might also require monthly cleaning services. Our experts carry out several monthly cleaning services, including:
Cleaning fabric chairs and other upholstered furniture in your office
Dusting and wiping down high surfaces, ceilings
Deep cleaning all surfaces in the building
Small Office Buildings
Large Office/High-Rise Office Buildings
Apartment Buildings
Restaurants
Hotel/Motels
Small Retail Stores
Large Retail/Big-Box Stores
High-Rise Residential
Manufacturing & Industrial
Government/Military
Have Questions? Call Today – (562) 506-4992
Commercial Building Restoration Services
When it comes to commercial and residential restoration services, SERVPRO is a leader in the industry. Available 24 hours a day and seven days a week, SERVPRO of Northwest Long Beach responds quickly to your North Long Beach business's fire, water, and mold damage emergencies. No commercial project is too big, because we have access to the resources of a nationwide network of 2190 Franchises. Learn more about our commercial restoration services:
Commercial Building Cleaning Services
When the dirt, odor, and moisture challenges go beyond the scope of your regular janitorial staff, you need SERVPRO of Northwest Long Beach. You can depend on us to get the job done right and get it done quickly. Our highly trained technicians use top-of-the-line equipment to make your business shine again. Learn more about our commercial cleaning services: